In Europe and Asia e-bikes (pedal assisted) are a significant portion of new bike sales and have been for many years. The trend is clear, e-bikes are the fastest growing segment of bike sales since 2012 and even then they were something like 9% of all bikes sold. In North America, and even cycle friendly cities like Vancouver,.. they are still rare to see and continent wide, are supposedly less than 1% here.
Have you tried riding an e-bike?
There are so many models and approaches that trying one may not translate to trying them all. What is clear to me and most that do try them is that anyone that has concerns about hills,... this is the solution. Anyone getting older or has has knee injuries but needs to remain active,.. you should be looking at an e-bike.
For me, the attraction is extended range and speed of commuting. In Vancouver, our infrastructure for cycling is getting to the point that if you are lucky enough to commute along certain routes, you may actually to do 10km faster than your commute in a car,.. with a normal bike. Now remove the hills from that,. and you can see the appeal.
My father rides an e-bike (his is a Bionix kit added to a bike he already owned). Although at 80, he is a strong cyclist,... but he'd never go from Point Grey to West Van on his bike for coffee with the guys if it were not for the electric assist. It has allowed him to stay active and given him a much larger range for doing trips car-free (or shortening trips if the weather is not optimal).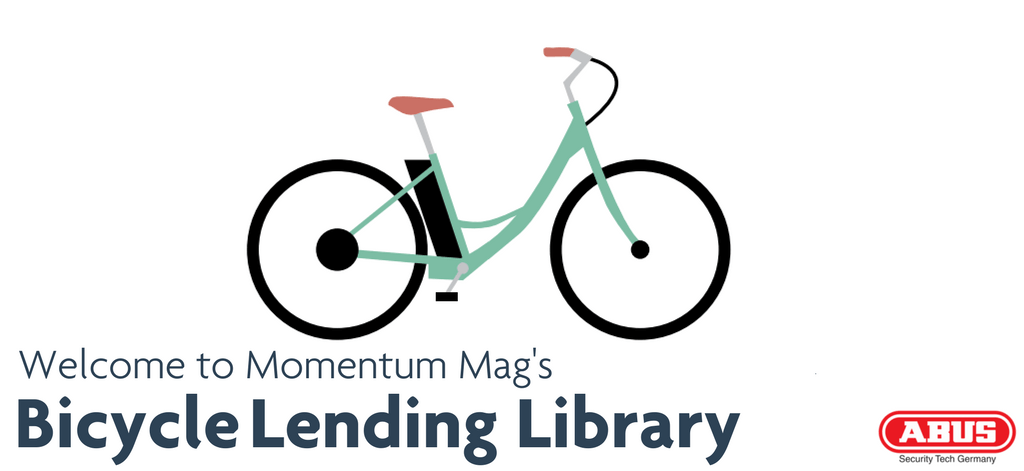 Abus locks and Momentum magasine have teamed up with several successful e-bike manufacturers to tackle the ignorance factor here in Vancouver by setting up a free e-bike lending library, allowing up to 2 week signouts (much like a library book).
https://momentummag.com/ebikelibrary/
Although I've ridden early e-bikes, I'm also aware they have come a long way so have decided to try some of these bikes (and blog about it) in an effort to share my experiences in this blog. It is my secret hope that Vancouverites, especially those that may never ride a non-pedal assist bike on a regular basis, see this as a way to remove certain barriers, and might consider e-bikes as a an option for their commute and Vancouver's growing traffic and parking issues.